Description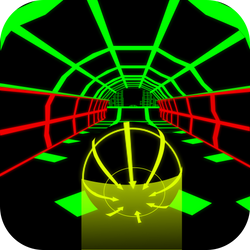 If you're a fan of endless runner games that challenge your reflexes and test your skills, look no further than "Slope." This exhilarating game offers a thrilling experience that will keep you hooked for hours on end. In this article, we'll delve into the world of Slope, covering everything from game controls to tips and tricks to help you become a true Slope master.
Slope Game Controls
To conquer the slopes, you need to be in complete control of your ball. Here are the essential game controls:
Left Arrow: To move left, press the left arrow key.
Right Arrow: For rightward movement, use the right arrow key.
P: To pause the game and catch your breath, simply press 'P'.
M: If you want to mute the sound and focus solely on the gameplay, hit the 'M' key.
These controls may seem simple, but in Slope, they are your lifeline. Your ability to use them effectively will determine how far you can roll down the twisting and turning track.
How to Play Slope Unblocked?
The game is objective is straightforward: survive for as long as possible while navigating a twisting, turning, and ever-steepening course. Here's a step-by-step guide on how to play:
Start Rolling: The game begins with your ball automatically rolling downhill. Your goal is to avoid obstacles and stay on the track.
Stay Centered: As you progress, the track will tilt and twist. Use the left and right arrow keys to keep your ball in the center.
Watch Out for Obstacles: Keep an eye out for red obstacles. Touching any of them will end your run. React quickly to dodge or jump over them.
Collect Gems: Along the way, you'll encounter green gems. Collect as many as you can to boost your score.
Stay Alive: The game gets progressively faster and more challenging. Survive as long as you can to set a high score and become a Slope legend.
Tips and Tricks
To conquer Slope like a pro, here are some valuable tips and tricks:
Practice Makes Perfect: Slope is all about reflexes and timing. The more you play, the better you'll become.
Stay Centered: Always try to keep your ball in the middle of the track to have better control over its movements.
Anticipate Turns: As the track twists and turns, anticipate the direction it will go and adjust your movements accordingly.
Use Jumps Wisely: Jumping can help you avoid obstacles and stay on track. However, be mindful of when you jump, as mistimed jumps can lead to disaster.
Collect Gems Strategically: While collecting gems is essential for a high score, don't take unnecessary risks to grab them.
Maintain Focus: Concentration is key. Avoid distractions, and immerse yourself in the game to react swiftly to oncoming obstacles.
Game Developer
This game was developed by Rob Kay, a talented game developer known for creating engaging and challenging games that test players' skills and reflexes.
Game Platforms
is available to play on various platforms, including:
Web Browsers: You can play Slope directly in your web browser, making it accessible on most devices.
iOS: Slope is also available for iOS devices, such as iPhones and iPads. You can download it from the App Store and enjoy the game on your Apple device.
Android: Android users can find Slope on the Google Play Store. Download and install the game to challenge yourself on your Android smartphone or tablet.
These platforms ensure that the game is easily accessible to players regardless of their preferred device, making it a versatile and exciting gaming experience for all.
Unblocked Version
If you're looking to play an unblocked version of Slope, you can find websites that offer access to the game without any restrictions. Simply search for "Slope unblocked" in your preferred search engine, and you'll be rolling down the slopes in no time.
In conclusion, the game is an addictive and challenging endless runner game that promises hours of entertainment. With the right controls, strategies, and focus, you can conquer its treacherous slopes and set impressive high scores. So, grab your keyboard or mobile device, and get ready to roll your way to victory in Slope!
Conclusion
In the fast-paced world of endless runner games, the game stands out as an exhilarating and addictive experience. With its simple yet challenging gameplay, it keeps players on the edge of their seats, testing their reflexes and strategic thinking. From mastering the game controls to honing your skills and strategies, tha game offers an engaging journey down its ever-steepening tracks.
Remember, practice makes perfect, so don't be discouraged by early failures. Stay focused, anticipate the twists and turns, and collect gems strategically to boost your score. With dedication and concentration, you can conquer Slope's treacherous slopes and set impressive high scores.
Slope's developer, Rob Kay, has crafted a game that showcases his talent for creating engaging and challenging experiences for players. It's a testament to his dedication to delivering quality gaming.
Whether you prefer to play on a web browser, iOS device, or Android smartphone, this game is readily available on multiple platforms, ensuring that you can enjoy the thrill of the game wherever and whenever you choose.
So, whether you're a seasoned gamer looking for a new challenge or someone seeking a casual yet exciting gaming experience, the game is the perfect choice. Grab your device, roll your way to victory, and join the ranks of Slope legends!